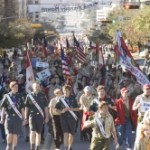 It's time for the 64th Annual Report to State Scout Parade!
We will be joining Cub Scouts, Boy Scouts, Varsity Scouts, Venturers, Sea Scouts and Explorers from all over Texas in a march up Congress Avenue to the Capitol.
We will have a trailer for the scouts to ride in during the parade, but we need your help to have a strong showing.
Parade Line Up Time: 7:30am
Parade Start Time: 9am
Parade Route: Congress Avenue Bridge to State Capitol.
Scouts and Akelas in the parade should be at the Pack 90 float no later than 8:30am.
All scouts are encouraged to wear their full Class A uniform.
Early arrivals will be able to help decorate the trailer.