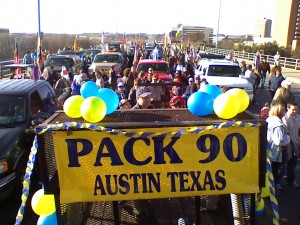 Canceled, due to weather!
As of Friday at noon, the parade is canceled due to snow and ice!
2011 Scout Parade & Report to State
Meet us on the Congress Avenue Bridge between 8:30 and 9 am this Saturday, February 5th!  Bring a poster, a picture, some balloons, some streamers, or whatever you want to use to decorate the trailer.  Bring some cans of food to donate to the "Souper Bowl of Caring" food drive.  Thanks! Wear your uniform, dress really warmly, and bring a bubble gun!  MORE BUBBLES = MORE FUN!!!
2011 Report to State Scout Parade info