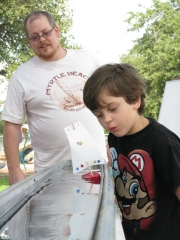 On Sunday September 26th a fleet of magnificent sailing vessels converged at Summitt Elementary to participate in the sport of kings and race their vessels for glory and to the enthusiastic cheer of the crowds. In other words…
The 2010 Raingutter Regatta was a great success and we would like to thank all the scouts and their Akelas for making this a great event.
To see photos from this event check out the Raingutter Regatta Photo Gallery.
If you need access to the Gallery please use the Contact form and let us know.  Access to our photo gallery is restricted to registered members of Pack90.