Come join us for the 66th Annual Report to State Scout Parade!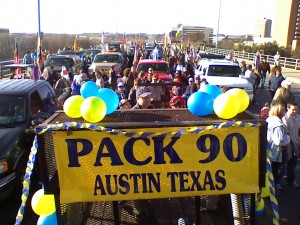 We will be joining Cub Scouts, Boy Scouts, Varsity Scouts, Venturers, Sea Scouts and Explorers from all over Texas in a march up Congress Avenue to the Capitol. We will have a trailer for the scouts to ride in during the parade and this year scouts can bring a bike or scooter to ride during the parade.  We need as many scouts and Akelas to come join us for the parade and show everyone how proud we are to be part of Pack 90. Parents are more than welcome to walk in the parade with the scouts, but if you would rather not walk the parade route you can always line up on Congress Ave. and cheer us on.
Date:
 Saturday, Feb. 7th, 2015
Parade Line Up Time: 7:30am, Scouts and Akelas in the parade should be at the Pack 90 float no later than 8:30am. Parade Start Time: 9am Parade Route: Congress Avenue Bridge to State Capitol. Dress: All scouts should wear their full Class A uniform.
Come early and help us decorate the float!! Below are links to more information about this event, including suggested parking. EVENT: 
http://www.bsacac.org/activities/report_to_state
PARKING: 
http://www.bsacac.org/my_files/2013_downtown_austin_parking.pdf