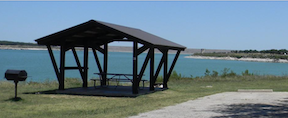 Mother & Scout Campout March 9th
Where:

 Jim Hogg Park @ Lake Georgetown (

Site D039

)

When:

 March 9, 3:00 pm 

Cost:

$12 for Adults and Tigers & up, $10 for Lions

Please sign up by Wednesday March 6, 2019
Location: 500 Jim Hogg Rd., Georgetown, TX 78633
Directions: 

From I-35, take Farm to Market Road 2338 west for 6 miles to Jim Hogg Road. Turn south and continue 2 miles to the park entrance (aprox. 33min drive)

Planned Activities: Fishing, (Bring your own fishing poles), Day hikes, Night hiking, Camp fire
Campout Notes
Review our Cub Scout Camping Checklist with your scouts.
All campers (adults and children) must have a completed medical form (Parts A & B only)

before they will be allowed on the campout. Download at

Required medical form

All adults (18yrs old and older) attending the campout must take Youth Protection Training or have proof of current Youth Protection Training.

Once you have taken the training email your certificate to

pack-90-leadership@googlegroups.com

. The Youth Protection Training should only take about 25 minutes to complete.

Link to required youth protection training

Leave your electronics at home!

Scouts and youth guests are not permitted to bring electronics on camping trips. Adults, please be mindful of your use of electronics, these campouts are for youth and adults to interact with one another and share in the camaraderie of others.
We practice "green dining"
so please bring your own cup, plate, bowl, and utensils