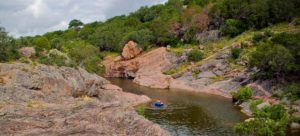 It's time again for our annual Mother-Son Campout. Time to bond with your son in the great outdoors! Please leave the dads and siblings at home for this event.
Where:  Inks Lake, Burnet, TX https://tpwd.texas.gov/state-parks/inks-lake
When: 

Saturday, March 25 1pm

 – Sunday, March 26 10am
Cost: $12 per person for tent camping/ $17 per person for cabin camping (info below on cabins) payable on Pack 90's online store. In addition, Inks Lake has a $6 entrance fee for adults (children 12 and under are free)
Signups are closed
Info / Schedule
On Saturday afternoon, we can explore what Inks Lake has to offer. 
Inks Lake has fishing gear free for kids to borrow and offers a junior park ranger program. 
In addition, a Buffalo Soldier camp will be set up with volunteers discussing the history and lives of these trailblazing men. From
7-9pm
, the Park Rangers will be hosting a Star Party complete with telescope and laser pointers.
Campout Notes
A few moms requested that we have some cabins available for this camping trip (in addition to our regular tent sites). We have reserved three cabins which have 2 sets of 2 bunk beds in each. Because the cost of reserving the cabin sites was a little bit more than a regular primitive campsite, the registration fee for reserving a cabin is $5 more at $17 per person (if you want to tent camp, reservation fee is $12). For mom/son pairs staying in the cabins, you will be bunking with another mom/son pair - per BSA rules, boys may not be alone in the cabin with the mom of the other boy at any time nor can boys and moms change at the same time. Regular rules still apply to tent campers. 
All campers must have a completed medical form (Parts A & B only) before they will be allowed on the campout. Please email your completed forms to Gregory Stewart.
All adults (18yrs old and older) attending the campout must take Youth Protection Training or have proof of current Youth Protection Training. Once you have taken the training either email or print your certificate to Gregory Stewart. The Youth Protection Training should only take about 25 minutes to complete.
If you completed these forms for the Family Campout recently, you do not have to fill them out again. We only need these forms from folks who did not attend the Family Campout.
Leave your electronics at home! Scouts and youth guests are not permitted to bring electronics on camping trips. Adults, please be mindful of your use of electronics, these campouts are for youth and adults to interact with one another and share in the camaraderie of others.
We practice "green dining" so please bring your own cup, plate, bowl, and utensils
cub scout camping checklist
Required medical form
Link to required youth protection training