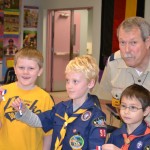 Thanks to all the Scouts and Akelas who came out to the Pinewood Derby Saturday morning. The pit area was humming with last minute tune-ups, the fans came out in force to lend their support, and you could feel the buzz in the air from the racers as they waited for their turn down the aluminum highway.
It was a great day for racing!
Special congratulations go out to our overall champion Nico Ford (Webelos).  We also want to wish Nico a speedy recovery from the illness that sidelined him from being at the race in person.  Get Well Soon!
2012 PINEWOOD DERBY RESULTS
Overall Champions
First Place – Nico Ford (Webelos)
Second Place  – Bradley Lynn (Tiger)
Third Place – Noah Chapman (Bear)
Fourth Place – Jakob Simpson (Wolf)
Tiger Division
First Place – Bradley Lynn
Second Place – Colton Cardosa
Third Place – Oliver Woodall
Special Mention – Ethan Hutcheson (Best Use of Imagination)
Wolf Division
First Place – Jakob Simpson
Second Place – Alexander Garaña
Third Place – Ty Wheeler
Special Mention – Thomas Woodley ( Most Like A Race Car)
Special Mention – Grayson Willett (Most Scout Crafted)
 Bear Division
First Place – Noah Chapman
Second Place – Liam McGrath
Third Place – Colby Lanier
Special Mention – Anthony Mascorro (Most Colorful)
Webelos Division
First Place – Nicolas Ford
Second Place – Ty Nelson
Third Place – Nicholas Ortiz
Special Mention  – David P (Most Humorous)
Special Mention – Logan Davis (Most Unique)
Special Mention – Max Steinhauser (Judge's Favorite)
Special Mention – Johnnie McBryd (Cubmaster's Favorite)